Making History Bushwick is a first-of-its-kind document, presenting a contemporaneous snapshot of a vital and growing arts community in the heart of New York City. With more than 400 artworks, essays by noted writers, critics, community activists and members of the thriving Bushwick scene, the book presents an alternative, inclusive, present-tense model for history making. The handsome full-color hardcover volume is the first publication from Arts in Bushwick, a 488 pages with a limited edition of 2000 copies.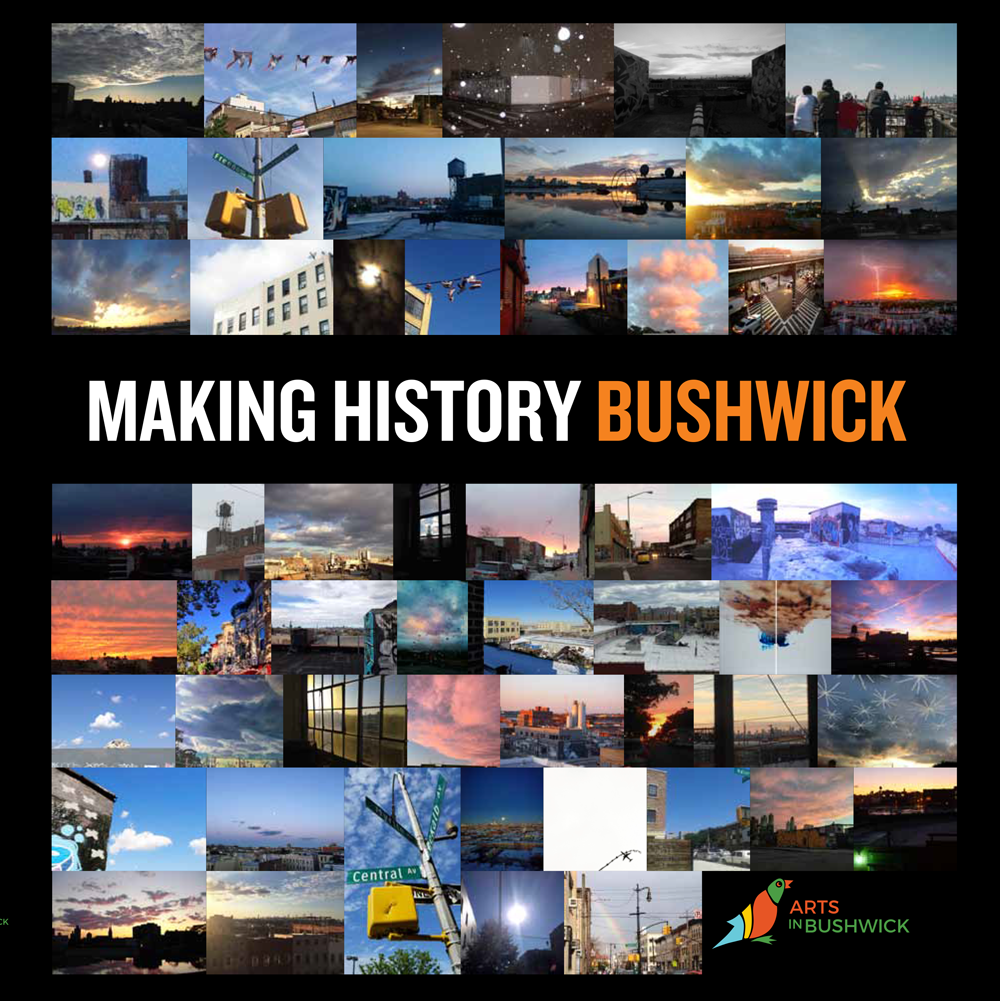 The art work in the book comes from a groundbreaking exhibition. In May 2015, Arts in Bushwick organized its biggest-ever show, including 402 artworks from 405 artists, all drawn from an open call on the Arts in Bushwick website. Artists had to self-identify as part of the Bushwick art community and donate their work. The exhibition culminated in a spectacular benefit gala, where the entire show was offered for sale in a raffle style and 260 of the 402 works were sold. The money raised at the gala, $32,000, was used to self-published AiB's first book.
The book was launched September 30, 2016 as part of the festivities for the 10th anniversary edition of Bushwick Open Studios. Making History Bushwick starts with a collection of published articles that combined with testimonies from key past volunteers describing the history of our all-volunteer organization. Also included are a collection of texts and works on displacement and gentrification that illustrates the paradigms and conflicts that Arts in Bushwick grapples with. The book concludes with a complete catalogue by artworks from the 2015 Making History show.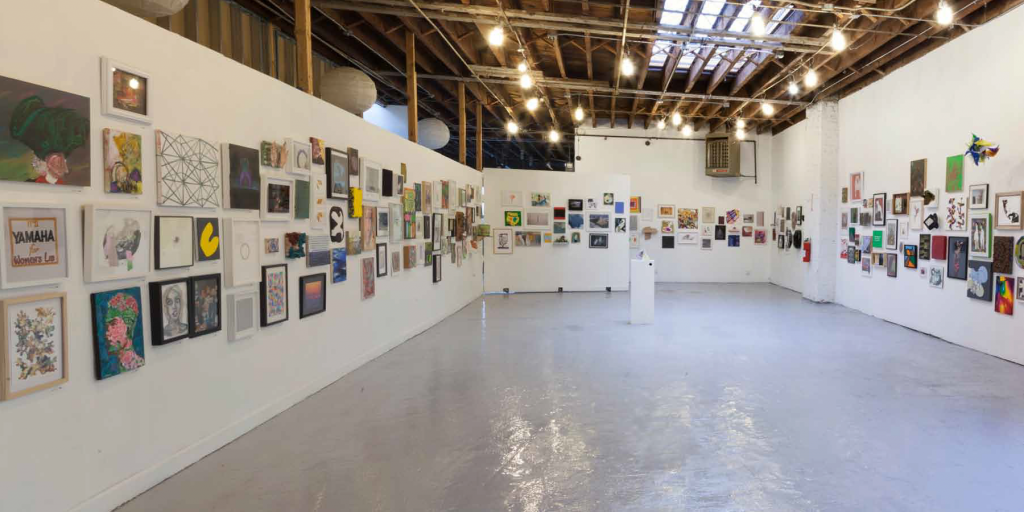 MAKING HISTORY BUSHWICK INTRODUCTION
BY NICOLE BRYDSON
The Bushwick neighborhood in northern Brooklyn sits inland alongside the Newtown Creek and directly south of the Queens border in a combination industrial and residential urban corridor of New York City.
Around the turn of the 21st century, an influx of artists began trickling into Bushwick's industrial parts, attracted by wide-open warehouses with inexpensive live-work spaces. By 2016 that trickle became a fire hose on full blast. Where once houses were burned for insurance money as recently as the downtrodden decade of the 1970s, real estate in 2016 is on fire in a different way. In the wake of a troubled past, a shiny upbeat future stands before us. It is literally being built before our eyes in the form of modern condo boxes, stacking high into the sky. That we have watched history repeat itself here, however, means some of Bushwick's most longstanding and resilient residents have become displaced by the influx of wealth that has followed in a wave that can be described as both post-Chelsea or post-Williamsburg, depending on your generation.
It is within that context that the all-volunteer, artist-run grassroots organization Arts In Bushwick is turning ten years old, and our most well-known arts event, Bushwick Open Studios, will live on in its tenth iteration. The festival's lifespan, documented in these pages, has occurred alongside, and often encouraged, wittingly and unwittingly, the extreme makeover that is in motion here.
Recognized by art historians, critics, buyers, gallerists, and other artists across the globe who visit over 1,000 art studios, 60 galleries and performance spaces, and myriad murals packed into two square miles, Bushwick has grown to include a highly concentrated community of artists. The creative energy is unrivaled, collaboration sometimes unavoidable – within certain spheres – and the pace of change utterly overwhelming.
More than 1,200 artists registered for, and many more participated in, the 2015 Bushwick Open Studios festival. Arts in Bushwick has also facilitated dozens of exhibitions, community programs, educational events, panels, blog coverage of the neighborhood, and year-round opportunities beyond the visual arts.
As a collective, one of our principal goals is to empower a socially responsible group of intersectional humans to create art and showcase it. We have fallen short of this goal often in our ten year history, particularly while learning the difference between something that is "open" and something that is "inclusive." The gap between these things is what it means to be intersectional or not.
Our greatest vulnerability as an arts collective appears when we ignore the role that we, and our art plays, whether we like it or not, in how the neighborhood and its economy have changed over time. Often arts organizations like ours have failed to recognize the perils of gentrification until it begins to affect artists' ability to afford creative communities.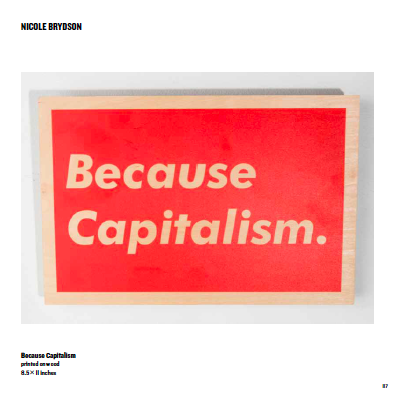 In defiance of our perhaps otherwise aesthetically inclined lives, there is a discomfort that arises when experience reveals the politics of art – whether politics are claimed or not – but it can be evolutionary, and it can and should be used to integrate and intersect the lives of all members in the Bushwick community, past, present and future. It is up to us to individually interpret, and strive for, our place in this hybrid global and local economy of creativity, and our responsibility to recognize the paths of others and our relative privilege.
This book was made not just in celebration of our organizational anniversary, the amazing and creative talent that has associated with Arts in Bushwick and our neighborhood, but as a way to document, question and understand our history, experience, place and current events of our beloved space in context. This book features a variety of perspectives through the written word and visual art of many of Bushwick's residents, past and present.
This project comes at a pivotal time in Bushwick, where a rapidly growing community means the culture of the neighborhood has shifted the pendulum of perspective in media to mostly newer faces, many from the art world. Through this global visibility, the international, transient art world class renders its privilege by directly increasing the economic strain on residents who are often invisible to them, particularly in sentiments like, "nobody was here before the artists."
We recognize and lament that residents were propelled from their homes by the price hikes of life in Bushwick, and that now many artists find themselves in the same boat, with rent at unattainable reaches for many longtime residents of the artist and creative classes. To continue working and remain in their homes and studios, artists and residents must reckon with the realities of circumstance, which come as a result of rapid real estate development made possible by our very own aestheticism.
Ultimately this book is our conversation – it represents the many voices and positions that have sprung forth in our dialogue. Arts in Bushwick hopes this book can be used as a reference not only for Bushwick's community but also within the art world and other creative communities in similar circumstances and conversations, especially in our borough of Brooklyn. We use these pages to explore what is possible when communities come together as well as to make visible what happens when we do not. We seek an examination of ourselves.
We begin with an overview of Bushwick's shifting economy and populations, from its origins up to what it is today by current Arts in Bushwick blog editor, artist and archivist Aniela Coveleski. What follows are a compendium of five articles chosen by Chloë Bass, a founding artist organizer with Arts in Bushwick. The articles tell us a little about what AiB organizers were thinking, as well problems that are raised in the process of creating an arts community in the framework of a gentrifying neighborhood.
The history of Arts in Bushwick is provided through the testimonies of our volunteers who have participated throughout our decade-long life. These sidebars are little windows into the lives of key Arts in Bushwick volunteers, alongside images from our archives of catalogues and interiors of many artist studios taken by Hrag Vartanian of the arts blog Hyperallergic over the past ten years.
Bushwick native artist and activist Anthony Rosado organized the next chapter, called Ever-Gentrifying New York City: Conversations on Displacement & Community Building. Anthony has experienced the effects of gentrification and displacement firsthand, and as a curator of this anthology, he sought to collect reactions to, and documentation of, displacement and community building in Bushwick and other similarly positioned neighborhoods of New York City. These are voices that might otherwise be invisible to a traditional art world audience.
The anthology starts with a conversation between Rosado and his ancestors. This is followed by Cynthia Tobar, a native Bushwick resident, whose documentation of people on the frontlines of housing activism is essential in our battles against displacement and erasure; Tom Angotti, a longstanding revolutionary who encourages inclusive community planning and whose lens is necessary when discussing anti-displacement methodology in Bushwick; Lauren Raheja, who covers the Secret Garden's ability to survive through aggressive gentrification, while providing to the community, is an example of community building and sharing resources from which we can all learn; Robin Grearson, a writer who participates in and tells the story of a community conversation called Part of the Solution, involving Arts in Bushwick core organizers; and Meg Sullivan, who struggles with white guilt, revealing and pummeling the apathy of ignorant new residents of Bushwick. The anthology ends with Yazmin Colon, a community organizer introducing her work in Bushwick with the youth group she founded, Educated Little Monsters (ELM). ELM is not just a safe heaven for kids, it is also directed by the leadership of the youth, where they make their own choices on artistic taste and expression through art, fashion, music, dance and theater. Some of the ELM kids are pictured here in culturally relevant clothing of their ancestors to connect the kids with their personal history. The anthology is illustrated by Bianca Perez's photographs archiving the feeling of exclusivity that gentrification inspires.
The second half of this book features 400 works by 405 artists who responded to Arts in Bushwick's open call to be included in the Making History Exhibition and Arts in Bushwick benefit, which provided the means for publishing this book and supporting our year-round programming.

The exhibition's open call asked artists to self select as part of the recent art history of Bushwick. The show was inspired by an eponymous text by the artist and writer Loren Munk, who has graciously agreed to let us reprint his essay here, just ahead of the artwork on display. We feel this is an amazing introduction to the work that directly takes up the challenge Munk makes to us, the artists, to empower ourselves to create and document our own history. Here it is: We made it in the most independent fashion we could muster.
In epilogue, artist Jen Hitchings interviews Krista Saunders Scenna and Dexter Wimberly, the curators of Making History, which opened on April 19 and closed on May 10, 2015, with a benefit raffling off work to fund the labor of love that is this book that you hold in your hand. Together with the Arts in Bushwick Benefit Committee, they led more than 60 volunteers in putting together the visual experience of the exhibition at Store Front Ten Eyck gallery – owned and operated by the artist Deborah Brown, whose support was immensely helpful through the lead-up to and exhibition of Making History.
Finally, we also asked the writer James Panero to examine Bushwick's current art scene in the context of art history, and he gave us Paris, one hundred years ago. James is a very present art critic in Bushwick, a connoisseur of Bushwick Open Studios for all ten years, and once calculated that to visit every studio during the event, the visitor must spend less than a minute and a half at each site, travel included.
We have to end this conversation saying that Arts in Bushwick is a patchwork of minds that have and had different opinions and sometimes-paradoxical ideas and opposing viewpoints. We think we are richer because of our differences and our willingness to keep talking. We may not have answers for all of the problems presented by the global arts economy and gentrification, but we are certainly not looking the other way from those problems; rather, we are reaching out to find and facilitate solutions. It is imperative for the future survival of this collective.
The intention of this project is to shift the paradigm that just the colonizers, the winners, the well-offs, write [art] history. Within this book we hope we are writing another, more honest story of our neighborhood and our organization's sometimes-messy history. We do not know if this is a successful history – it depends on your parameters for success – but we know that this is our history, created with our own work, with love.